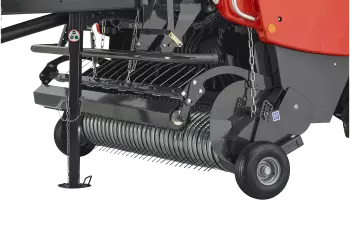 Optimal crop pick up
All VBP models feature a wide cam-steered pick-up with heavy crop roller with a wind guard (diameter: 217 mm). The pick-up is designed to maximize the full capacity of the machine. With a working width of 230 cm, the machine is capable of working in all windrows and will not let you down, even in the toughest conditions. Straight pick-up tines help release the crop and reduce crop wrapping. Camless-shaped crop guides result in more aggressive and efficient pick up. A cam track pulls the tines straight down in the rearward position to avoid wrapping, making this the only hybrid pick-up on the market today. The pick-up features standard a pendulum frame and optional pivoting pick-up wheels to allow the pick-up to adapt to changing field conditions.

Choose one of our 3-tine INTEGRAL ROTORS: the 14- knife or 23-knife OPTICUT cutting rotor.