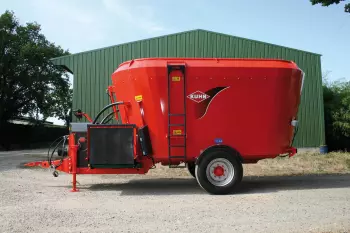 The ultimate all-terrain machine: built-in frame and recessed wheels
The position of the wheels under the body keeps the overall width down to just 2.40 m for the 14 m
3
version! The built-in frame and tub concept guarantees the structure will last a long time, while:
significantly reducing the overall height: the machine can follow the tractor into the lowest buildings,
maintaining good ground clearance (390 mm with 385/55 R22.5 tyres). Buildings with uneven floors are no longer a problem!