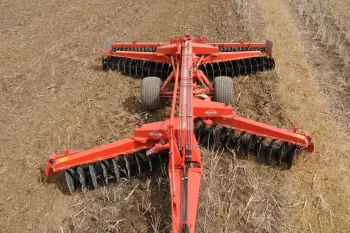 Highly resistantant disc gangs
The DISCOVER XM2 range is equipped with 4 disc gangs: two at the front and two at the rear. Positioned symmetrically at the rear of the machine, they improve the machine's lateral stability. The front disc gangs are staggered to work the entire surface of the soil.
The DISCOVER XM2 disc stubble cultivator range is equipped with 660mm discs with 6 mm thickness, guaranteeing an unrivalled quality of work.
To ensure optimum strength, the disc sets are equipped with a double-sealed tapered bearings and are connected to the undercarriage with reinforced frames. The inclined positioning of the disc gangs makes it possible to limit the risks of blockagesand encourage the flow of plant debris.
The alternate notched and smooth discs offer better penetration capacity and homogeneous wear.